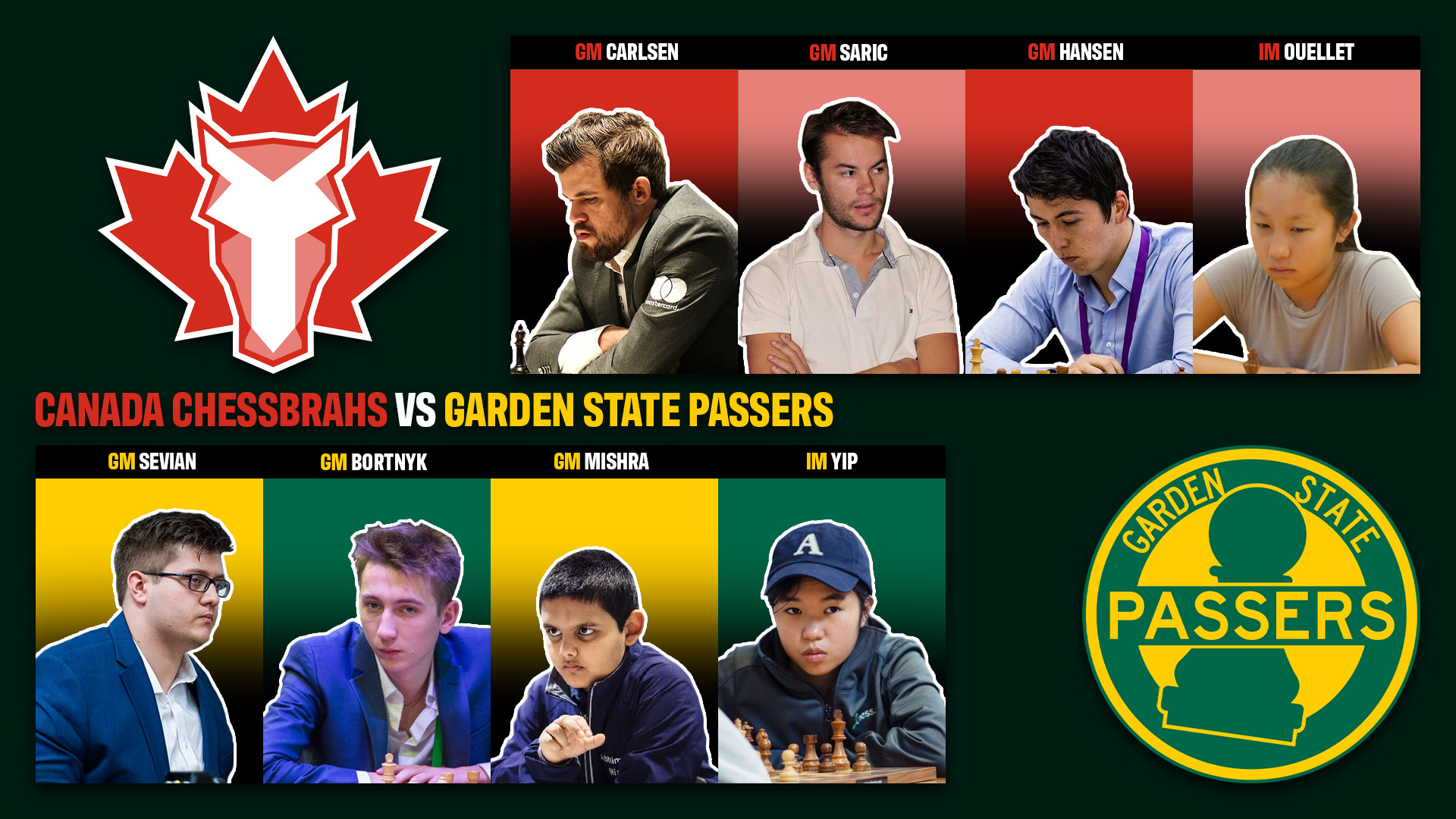 Big disappointment as we watched our match against Chessbrahs slip from our fingers. After a great first round start we were in the drivers seat looking to at least split the rest of the rounds. Round 2 continued along, although we did rely on some comebacks in those games. Unfortunately we then hit a brutal Round 3 that started off strong. Of the 4 games in play, only the GM Magnus Carlsen game against GM Oleksandr Bortnyk ended up not being a missed opportunity. Lastly in round 4, needing a comeback, GM Ivan Saric made a smart team play forcing a draw giving the Chessbrahs the necessary 8.5 while he had a winning position.
Round 1
Things looked great for us. IM Carissa Yip, replacing GM Bela Khotenashvili, took Magnus to an endgame yet missed some pinpoint accurate moves and found herself on the losing end. Meanwhile GM Sam Sevian and Bortnyk both found wins in their games with GM Abhimanyu Mishra getting a draw to give us a 2.5-1.5 start.
Round 2
Continuing along, Sevian found another win against GM Eric Hansen along with Bortnyk beating the board 4, WGM Maili-Jade Ouellet. In the other two matches, Mishra could not hold in a tough position before losing a rook to Magnus while Yip went for a tactical idea that ended up losing a piece to Saric. With those swings the round ended 2-2 giving us a 4.5-3.5 lead.
Round 3
Disaster hour for us. On board 1, Sevian played a speculative sacrifice in the middlegame to try and avoid finding himself in a passive position. Unfortunately he never got enough for the piece until resigning in a (computer) drawn endgame that would have needed an underpromotion for a RvN and 7 seconds on his clock. Yeah, that wasn't happening.
On board 2, Magnus proved himself too strong and Bortnyk wasn't able to find his footing in the game. Magnus just played strong, slow moving chess avoiding complexity throughout. Mishra on board 3 had a heartbreaking loss to Ouellet as he was better throughout the game until losing his way in time trouble. Lastly, Yip found a beautiful tactical resource yet Hansen did well to find some good practical defensive moves and hold it to a draw.
That draw was our only points leaving us down 0.5-3.5 and now 5-7 for the Chessbrahs.
Round 4
We closed the gap a bit yet not enough to overcome the Chessbrahs. Sevian wasn't able to get much against Magnus who went 4/4 and was mostly unfazed. With the win in hand, Saric then forced a repetition against Bortnyk while winning to make it official. Afterwards, Mishra and Yip both found wins in their games yet the damage was already done as we lost 8.5-7.5
Next up we have California Unicorns on Wednesday, March 8th, at 1:00pm ET over at: twitch.tv/Chess and twitch.tv/PassersGG.