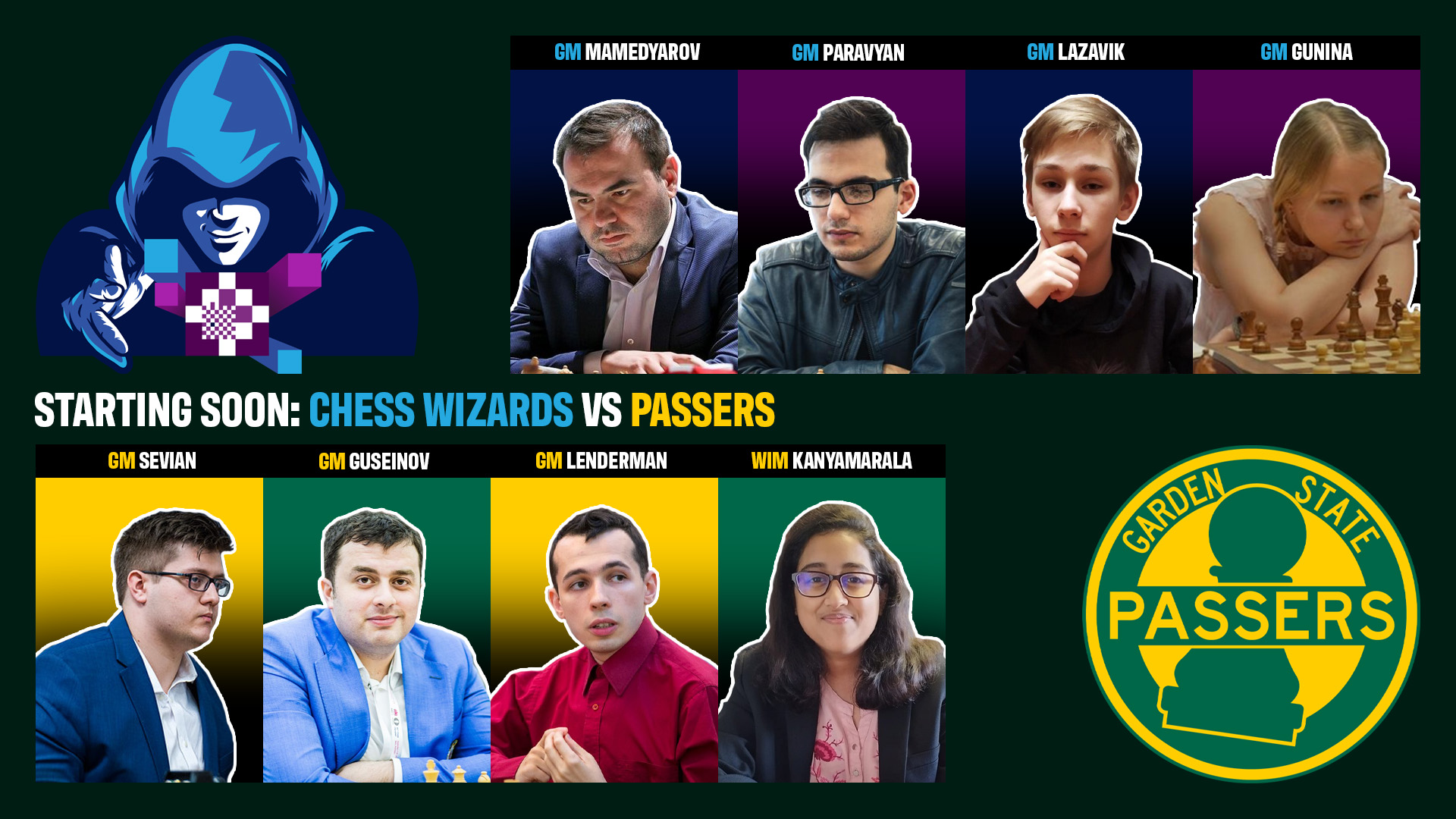 What a match where the score line doesn't really show how close it truly was. Levitov Chess Wizards were the favorites going in and a 10-6 result seemed very probable yet we fought hard with an outstanding 3.5/4 result from board one GM Sevian. Unfortunately he didn't get the support needed on the other boards as GM Guseinov and GM Lenderman missed some opportunities and going 1.5/4 and 1.0/4 respectively. Lastly on board 4 we had newcomer GM Kanyamarala miss out on scoring a point yet she took GM Mamedyarov all the way to the end with an outstanding game followed by another strong 96.6% accuracy against GM Paravyan who unfortunately hit a 98.2% accuracy!
Round 1
This was the most heartbreaking of the rounds. If we wanted to win this was the round we really needed to pick up points. GM Sevian got the job done in a clean game yet he was the only point we picked up. GM Guseinov had a really up-and-down game against an extremely strong up-and-comer GM Lazavik before blundering away a knight in time trouble. On board 3, GM Lenderman took on Levitov's board 2 in a very tight game where GM Lenderman went on to be slightly worse before making a minor mistake giving GM Paravyan an ending he was able to convert. Then on board 4 we almost saw what would have been the upset of the season with WIM Kanyamarala taking on GM Mamedyarov. Sadly Trisha was only down to 6 seconds when she missed the winning 50. Nh6!!.
With that, the score was now 3-1 in Levitov's favor when we really needed a 2.5+ to give ourselves a chance.
Round 2
GM Guseinov bounced back with a complex opening and middle game to win against GM Gunina.
GM Sevian drew Levitov's MVP GM Lazavik in a fairly even yet tough game; GM Sevian did miss a win at the end yet in time trouble it was hard to see and the intuitive move was the drawing one. GM Lenderman had a tough match against GM Mamedyarov and never got it going in that game while WIM Kanyamarala played another great game yet she wasn't active enough with her dynamic advantage to overcome GM Paravyan.
After another disappointing round of 2.5-1.5 for Levitov we were now at 5.5-2.5, not out of it completely yet now in need of two monster rounds.
Round 3
Finally we had a round we were looking for with a 2.5-1.5 result in our favor leaving us at 7-5 going into the last round.
Starting the round off, GM Gadir had a quick Ruy Lopez draw with GM Mamedyarov which was a good result for both sides. We picked up a half point off of the big man himself while Levitov were now 0.5 points closer to closing things out.
GM Sevian had an instructive endgame win against the ever strong GM Paravyan showing the strength of a queen versus two rooks when the player with two rooks has a loose king.
To add to that result, GM Lenderman had an unstoppable attack after heavy pressure against GM Gunina.
While WIM Kanyamarala struggled against an on fire GM Lazavik. Still it was a great round and we were back in it.
Round 4
Needing a 3-1 result to tie it we at one point were potentially even looking at a 3.5-0.5 for a win. GM Sevian started us off with a masterclass win against GM Mamedyarov bringing it down to needing 2.5/3. As you can imagine the following game is our game of the day:
Disappointedly nobody else was able to pick up points that round despite GM Guseinov missing a tactic dropping a piece and GM Lenderman missing a very hard-to-find computer like winning advantage. WIM Kanyamarala wasn't able to hold a draw on board 4 yet by then our hopes were already extinguished.
Good games overall, disappointing result, yet good luck to this very strong Levitov Chess Wizards in the rest of the season and hopefully we can find a rematch in the playoffs.

Until then we now have a strong Spanish Maniac Shrimps to prep for, game time is Wednesday, February 22nd, at 1:00pm ET.